We met up with the Albion Quartet ahead of their appearance at our next Sunday Series...
As The Albion Quartet head to Harrogate, the British classical string quartet - Tamsin Waley-Cohen, Emma Parker, Rosalind Ventris and Nathaniel Boyd – answer our Q&A. Catch them at the Old Swan Hotel on Sunday 18 March for our next Sunday Series concert...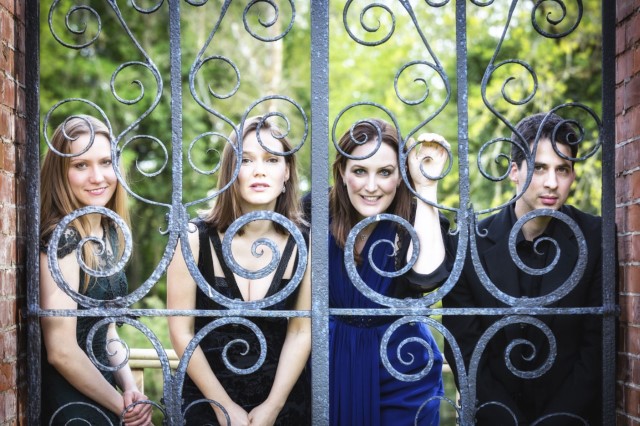 If you could play only one composer from now on, which would it be?
Rosie: I'm guessing we are split between Haydn or Beethoven?
Nathaniel: Beethoven or Bach; don't ask me to choose!
Emma: Haydn
Tamsin: Beethoven
What or who inspired you to pursue a career as a professional musician?
Rosie: My mum is a keen amateur and my first musical memories are of her having lessons and playing with friends at home. As soon as I took up the violin I knew that I wanted to be a musician...(which is why I switched to the viola ;))
Nathaniel: We were all fortunate to be exposed to music very earlier on, either through friends or family. From then on we were sold!
Tamsin: I never really thought about being a professional musician I just always loved playing!
Emma: My older brother's Suzuki class. I thought it looked really cool!
How would you describe your perfect day?
Rosie: It would definitely be a combination of good music, company, food, dogs and weather!
Emma: For me it would be practice time, quartet rehearsal, time with my kids, and a slap up meal made by Tamsin.
Tamsin: and a long walk!
What is your most valued material possession?
Nathaniel: We shan't disappoint; it has to be our instruments. They're our companions.
String instruments can be very valuable (and pricey!) there was the story of the musician who accidentally left a 2.4m Stradivarius on a train – have you had any similar hair-raising incidents?
Rosie: Not so far…
Nathaniel: Well, I did drive off after a concert with a lovely instrument (whose owner shall remain nameless) on the parcel shelf. A couple of miles down the road we realised the boot wasn't properly shut and could have flown open at any minute...
Working together (and travelling) as a quartet must be a challenge at times – do you all get on? What's the habits that annoy you most about your fellow musicians?
Rosie: I think everyone would say I eat all the snacks...!
Nathaniel: That's a provocative question! I think it should remain unanswered in the name of peace...
Tamsin: …considering how much time we spend together we get on really well!
Emma: In a Quartet you're often in challenging situations and it's lovely to have your friends together to support each other.
Have you been to Harrogate before, or have any connections to Yorkshire? If so, what?
Rosie: My mum grew up in North Yorkshire, and was one of the first students at York University. I've never been to Harrogate before but have wanted to visit for a long time. I'm hoping I'll have a chance to go to Betty's… (After just reading Robert Galbraith's last Strike novel I really want to try the Betty's Blend tea and Fat Rascal scone!)
What can audiences expect from your performance?
Nathaniel: We're bringing a wonderful programme to Harrogate including a little heard but fantastically exciting Dvorak quartet. There's also a heart wrenching short piece by Suk and one of our favourite Haydn's: The Emperor.
How would you convince someone who is a bit intimidated by classical music to come along?
Nathaniel: It's an expressive medium and if you feel emotions you'll likely take something from it! We certainly don't hold back! We would love for people to come and experience it no matter what their prior experience, it couldn't matter less! Give it a go and a whole new world could open up!
Rosie: You'll be part of something new and exciting that we're creating on stage.
Tamsin: Nathaniel's right: we put a lot of emotion into our playing. I think sometimes there's a misconception about this because we play notes off a piece of paper. There are many different ways for us to interpret them.
Harrogate International Festivals is a Registered Charity, No. 244861
32 Cheltenham Parade
Harrogate
HG1 1DB